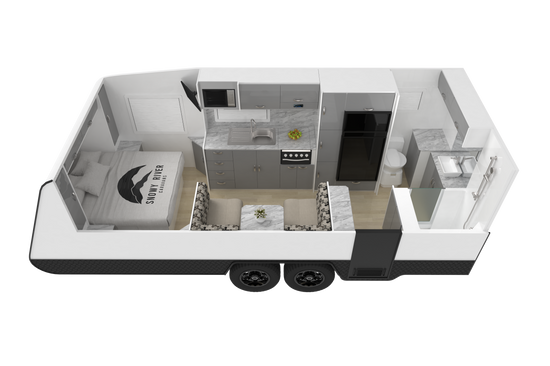 "Prices from $60,990, including standard fees for registration, dealer delivery charges, CTP and stamp duty*"
*Please note that the above price does not include customer delivery or any optional extras. Dealer delivery and registration charges have been estimated for customers located in the Melbourne Metropolitan area. Dealer delivery charges, registration costs, CTP and stamp duty charges may vary from dealer to dealer and depending on the customer's location Please contact your local dealer for pricing specific to your region".
SRC22
The Snowy River SRC22 has been designed with storage in mind both inside and out.
The SRC22 is exceptional value for money.
This van won two BAV awards in 2019 for Best Value for Money and the Best van under $65K!
A fibreglass inner and outer skin with CPX foam insulation in between ensures that it is well insulated from temperature extremes.
**Photos and 360 may show items that are nonstandard inclusions. Bedding & décor is not included.
SRC22 MEASUREMENTS
External Body - 6660
External Overall - 8540
Width - 2390
Height Including Air Con - 3070
ATM - 3000
TARE - 2370
Ball - 148
Axle Capacity - 3000
**Measurements are estimates only

External Features
Aluminium frame
Fibreglass exterior
Solar panel
Air Conditioner: Reverse cycle
Gas: 2 x 9 kg bottles
Water tanks: 2 x 95 Litre
Battery: 100 Amp Hour AGM deep cycle
Internal Features
Four Burner Cooktop (3 gas + 1 electric) with Mini Grill
12-volt Rangehood
3-way fridge
Separate cassette toilet
Spacious separate fiberglass cubicle
LED Lights throughout
Hot water: 240 volt, gas with 12 volt ignition
Entertainment system: AM/FM/CD/DVD
Chassis
Dura-Gal Chassis Frame
4" Chassis Deck
2 Arm bumper bar
Standard Alko Hitch
Torsion suspension
12" Brakes
15" Wheels