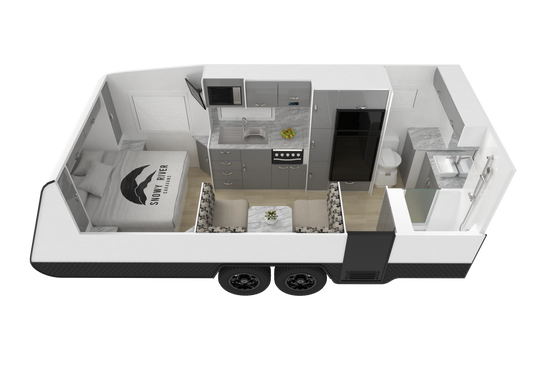 "Prices from $59,990, including standard fees for registration, dealer delivery charges, CTP and stamp duty*"
*Please note that the above price does not include customer delivery or any optional extras. Dealer delivery and registration charges have been estimated for customers located in the Melbourne Metropolitan area. Dealer delivery charges, registration costs, CTP and stamp duty charges may vary from dealer to dealer and depending on the customer's location Please contact your local dealer for pricing specific to your region".
SRC21
The Snowy River SRC21 has been very well thought out with a pantries and plenty of storage space.
This layout is very practical and the modern finish makes this a van something you must see to appreciate. This caravan is sure to be a star!
**Photos and 360 may show items that are nonstandard inclusions. Bedding & décor is not included.
SRC21 MEASUREMENTS
External Body - 6360
External Overall - 8240
Width - 2390
Height Including Air Con - 3070
ATM - 3000
TARE - 2321
Ball - 119
Axle Capacity - 3000
**Measurements are estimates only

External Features
Tandem axle suspension
Gas / electric hot water service
Fold down picnic table
LED external annexe light
240 volt inlet and outlet
12 volt external socket and antenna outlet
LED External grab handle
Front window shield
Ventilation hatches with screens in roof
Internal Features
Washing machine
3 + 1 Cooker top with minigrill
12 volt rangehood
22" Flatscreen T.V,
Digital TV antenna
LED internal down lights
Storage compartments under bed
Reverse cycle Air Conditioner
Chassis
Dura-gal Chassis
6" A-frame
A - frame tray
2 Arm bumper bar
Spare wheel
Tap on A-frame
4 x drop down stabilisers
2 x 95 litre water tanks
2 x 9 kg gas bottles
External gas bayonet